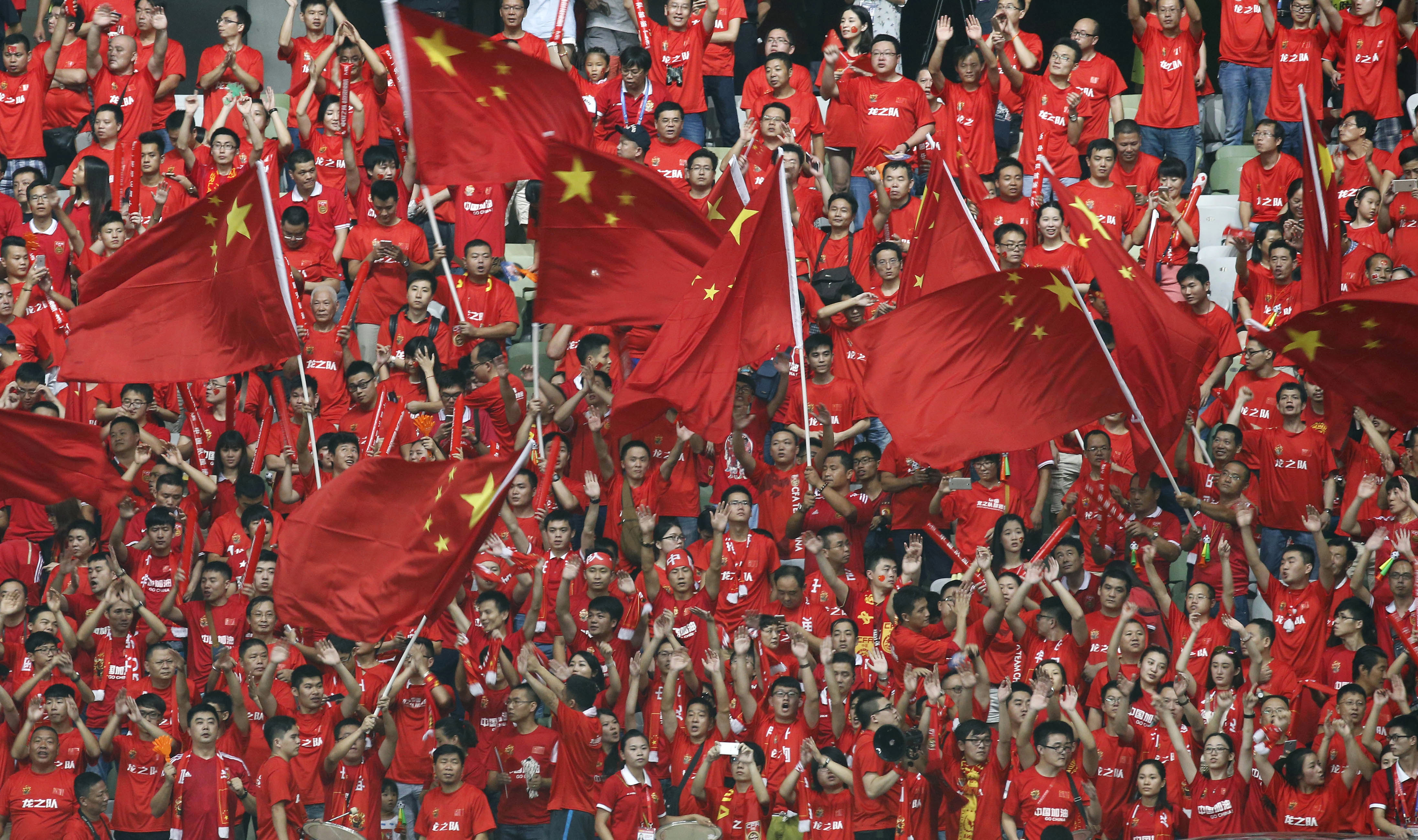 China seems to be crawling its way onto the map within global football and is creating a stamp for Asia on the game (despite Japan already doing this with multiple World Cup appearances and the J League). One thing surrounding China, with reference to the beautiful game, is that the origins of our game are argued to originally came from the country over 1000 years ago. Early stages of football have been linked to China and dated back to the BC era. Back then, it was called 'cuju' or kickball in English. This is clear evidence of it being a big time player but not everyone believes they started the game and it was in fact the English. "Football's coming home" and all that from the English create a debate between the two and an even wider debate sparked when the Germans took that song to try and make it their own. Now, the Chinese Super League seems to be attracting some incredible talent from Europe's best leagues but this comes down to one thing; the financial capabilities of this global superpower. How is China's game "crawling onto the map" as I say?
It seems as though there is significant reforms being made on China's game from bottom to top. First of all, the President of the communist state Xi Jingping is a massive football fan and has been active in changing the game in China. Xi has made it clear, from when he became President, that he wants World Cup football from the national side and eventually for them to win the prestigious trophy. He wants world dominance from the national side by 2030. With this ideology, Xi placed football on the national curriculum which means schools have to teach the game within school as law. 5000 have been specialised in football, all with the aim of developing China's younger players to mold a better future for the nation side (one of Xi's aims with these reforms). The state have brought in foreign coaches from countries all around the world to help the reformation of the Chinese football system including former Serbian footballer Rade Kokovic. He said, "number One: from today's session is passing because we feel passing is an essential part of football games."
He then went on to say, "And the second thing is mentality. We want to keep them sharp, keep them mentally focused, concentrated all the time, so they don't make unnecessary mistakes."
Two of the teams training with foreign coaches are based in Shanghai and this movement is supposedly set to spread across more cities within the country with foreign coaches going to other schools/academies. Schools inside Shanghai (280 approximately) have joined leagues with City officials setting up youth training camps in 16 districts to train 3000 students. Due to a pre-season tour of China, Juventus have opened a J Academy within China. This highlights that global superpowers within the game are becoming intrigued by the game in Asia and are making further investments into it. There is expectations of 20000 football themed schools to be open by 2017. Substantial movements are being fashioned by the government to improve the game within this global giant.
Looking further up than school level in football and focusing on the national team, there is improvements albeit them being small. Within the FIFA rankings, China placed 97th in 2014 behind Caribbean island Antigua and Barbuda (population: 89,000) and just ahead of Faroe Islands (population 49,000). Comparing the size of these two countries to China, who have a population of 1.357billion (as of 2013) and make up around 37% of the world's population alongside India, something is clearly wrong somewhere when they cannot find 11 talented enough players to be rivaling these countries. However, they have moved up the rankings to 84th in 2015 and again moved up to 81st in 2016. This is showing small but significant improvements being made within the national team.
Alain Perrin was appointed manager of the team in 2014 (despite the wishes for Marcello Lippi who led Guangzhou Evergrande to domestic and Asian Cup victories) and under his leadership they continued through the qualification process for the 2015 Asian Cup. They qualified under Perrin as the best third placed team. During the tournament, China went from strength to strength with three wins out of three in the group stages with a notable 2-1 victory over Uzbekistan who attempted to rival them for the top spot of their group. Their group stage game against North Korea packed 25,000 of the reds into Australia's capital stadium which is a surprising amount in all honesty. Before these victories, the national team were branded embarrassing and a laughingstock among fans based on their failures before hand. They never came close to any of the the World Cup tournaments since 2002 and their group stage qualification in the 2015 Asian Cup was actually the first time the team had not been knocked out in the group stages in 11 years. However, they were knocked out in the quarter finals by the rapid growing team Australia with the result being 2-0 to the Socceroos.
From May 2015, China put a limitation on their players that they had to wear Nike football boots due to the sports giant sponsoring the national side. This, interestingly, had a negative effect on the players and they fell behind Hong Kong in the 2018 World Cup qualifiers. Alain Perrin was eventually sacked due to this under performance and Gao Hongbo returned. Now, something remarkable in their history occurred within the qualification process. They needed two wins from their final games; they were playing the Maldives and Qatar. They beat the Maldives 4-0 whilst Qatar beat Hong Kong 2-0 allowing Team Dragon to go above Hong Kong into second. They needed results to go their away after beating Qatar and North Korea's shocking loss to the Philippines allowed them to miraculously qualify for the next round.
These improvements on the national side show something must be working with their recent reforms because they are slowly and steadily climbing the FIFA World Rankings whilst performing like never before.
It isn't just the national side which is being affected by the growth of Chinese football. The Chinese Super League is attracting some of the globes greatest talents from European's top leagues. Despite Didier Drogba moving to Shanghai Shenua in 2012, the more recent moves have been causing waves through the global game. If you look at the time Drogba moved to the league, he was 34 years old. This is a player at the end of his career. Now, more recent transfers include Alex Texiera, Ramires and Gael Kakuta. All of these players within their twenties which suggests they aren't moving to these Chinese clubs to retire thus causing the CSL to be a 'retirement league'. Texiera moved from Shakhtar Donetsk to Jiangsu Suning for £39.4m despite him being rumoured to be joining Liverpool FC. This is most likely down to financial aspects due to the economy of China being one the strongest and the investment into the league being monumental. However, as a footballer, something about the league has to attract you. Ramires left Chelsea to Jiangsu Suning for £25m, Ezeqiuel Lavezzi left PSG to Guangzhou Evergrande for £23m and is the highest paid player on the planet (reportedly) earning £400,000 a week. Alongside these, Gervinho left Roma and Gael Kakuta (24 years of age) joined Hebei China Fortune FC alongside the ex Arsenal player. Stephane M'Bia also joined Hebei from Sevilla. Jackson Martinez is one of the biggest names to move to China also following his dismal career at Atletico Madrid. However, the player still offers something but just didn't succeed in Madrid. Martinez was wanted by many European clubs but chose to join the CSL for £42m. This is just a selection of the talent who have moved from huge European clubs, competing in European competitions such as the UEFA Champions League and Europa League, to join a Chinese club. If that doesn't scream growth of the game in China then I do not know what would. Even earlier than these, Paulinho was brought to Guangzhou from Tottenham at the age of 26. Even more evidence of China not being a 'retirement league'.
Chinese businessmen have influence across global football, not just within their home country. China Media Company own 13% of Manchester City which they acquired for £265m. Wang Jianlin owns 20% of Atletico Madrid and 56% of Espanyol is Chinese owned. French club Sochaux is Hong Kong owned also. A Chinese company also owns a percentage of Jorge Mendes' company and tried to bring Jose Mourinho to the league but couldn't. That's huge movements for a small league! This is evidence of China influencing global football substantially and becoming a big time player.
Brazil national side manager, after seeing 22 of his Brazilian players join the Chinese game, called it "the new El Durado" and after research into this phrase, I take one thing; El Durado was claimed as a city at first, a kingdom next and then an empire. China is becoming a big time player in global football and you better believe it.