Me and my mate were sitting have a chat about the games we used to love playing as kids. Various FIFAs were thrown about, including FIFA World Cup games, a few PES' were thrown about also. This list included Pro Evolution Soccer 6. Alongside this discussion came the soundtracks of many of the FIFAs but Pro Evo really hit home on the nostalgic side so we gathered a whole 25p and bought it. After dusting off my Xbox 360, I eventually got to playing it and from the opening sequence of some goon doing freestyle next to a Reebok logo, I knew it was going to be a good time.
I dived straight into it, played as AC Milan who had a team full of superstars but we were too early for the Ronaldinho, Zlatan and Ronaldo stage just yet, However, Kaka, Cafu, Paulo Maldini, Alessandro Nesta, Dida, Filipo Inzaghi, Clarence Seedorf and Andrea Pirlo were all in attendence on the starting XI very similar to the one that featured in the Champions League Final defeat to Liverpool back in Istanbul in 2005. It was spectacular, I was like a little kid in a sweet shop. In the first game, I played Saint Ettiene who had no players I knew apart from a young man called Fredy Guarin. Selecting the 'regular' difficulty mode, I set off and learnt to realise I wasn't that good. The opposition managed to score within two minutes of the game, Gennaro Gattuso got sent off for an absolute cruncher and I was unlucky not to score after hitting the bar with Cafu from 30 yards out. Despite losing 1-0, this game is still fantastic to play again.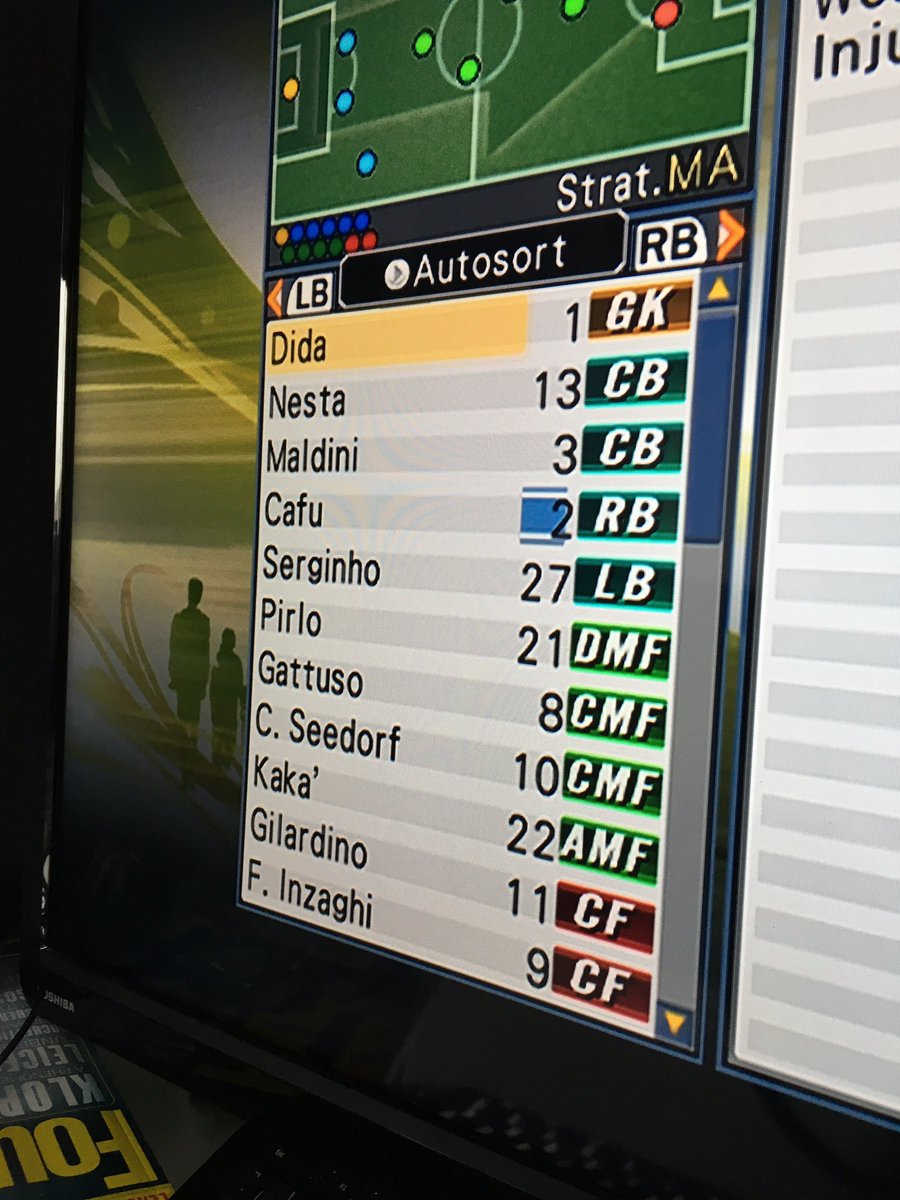 The next game I decided to see what team Milan's rivals, Internazionale, had at the time. I selected to play against my beloved Newcast….erm I mean Tyneside. Inter's team hosted Adriano, Zlatan Ibrahimovic, Estaban Cambiasso, Luis Figo, Javier Zanetti, Patrick Vieira and Hernan Crespo (who I left on the bench….I know right). Newcastle's team you say? Well, Shola Ameobi was starting up top with Nolberto Solano and Damien Duff outwide. Titus Bramble was at the heart of the defence so that says it all. 
After changing difficulty, I went into this game with a positive mentality. Still looking for my first PES 6 goal in 9 or 10 years, I was optimistic with a strike partnership of Zlatan and Adriano. Oh, how wrong was I?! The first half was a nightmare. Heroics from Shay Given and Stephen Carr kept me at bay and the angrier I got at how hard it was to score in this game. Every shot was saved or went high and wide. 15 shots, three on target! Despite this, all I needed was a bit of Zlatan. A brace from a 25 year old Ibra managed to clinch my first goals and my first win returning to this game. One of them, an absolute stunner.
After realising how awful I am at this game, I decided to take a look at some of the best squads within the game and oooo this is good. The best ones below: